Biography
After having been a student in mathematics at the Leiden University, Nico van der Meel decided to become a professional musician. He initially studied choral conducting at the Rotterdam Conservatory, but from 1982 he studied singing with professor Margreet Honig. He concluded his studies cum laude in 1987, after which he took part in masterclasses with Evelyn Lear, Ruud van der Meer, Robert Holl, Elly Ameling and Elisabeth Schwarzkopf amongst others. In the past few years he has been invited as a teacher to several summercourses, like the "La Caixa" Curso Internacional de Música.
Nico van der Meel made an early debut with the Concertgebouw Orchestra during the 1987/1988 season and that same season also sang the tenor arias in a recording of Bach's St. John Passion conducted by Sigiswald Kuijken. He performed with conducters such as Nikolaus Harnoncourt, John Eliot Gardiner, Gustav Leonhardt, Peter Schreier, Jan Willem de Vriend, Jos van Veldhoven, Helmuth Rilling, Michel Corboz and Sir Colin Davis. Although he became internationally known for his performances of the role of Evangelist in J.S.Bach's Passions, he has a broad concert repertoire, including music from the 16th to the 20th century.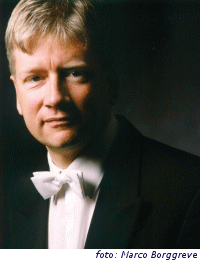 In the years 1989 to 1996 he took part in concert tours and recordings of Bach's Mass in B minor and – as Evangelist – in Bach's St.John Passion and St.Matthew Passion by the Orchestra of the 18th Century conducted by Frans Brüggen for Philips Classics. Nico van der Meel can be heard on large number of other CD's with early music, as the discograhpy on this website reveals.
In the Netherlands Nico van der Meel was a guest at all major stages for chamber music, but also in Germany, Spain and France he performed in song recitals. For these recitals he works in close connection with pianists Dido Keuning and Leo van Doeselaer amongst others. CD's were published with early songs by Hugo Wolf and with songs by the Dutch composers Johannes Verhulst, Leander Schlegel and Constantijn Huygens.
He has performed a number of operatic roles, including Alfred in Fledermaus by Johann Strauss, Sellem in Stravinsky's The Rake's Progress, Pedrillo in Mozart's Entführung aus dem Serail conducted by Christopher Hogwood, Don Ottavio in Mozart's Don Giovanni directed by Arnold Östman (recorded by Decca L'Oiseau Lyre) and Camacho in Mendelssohn's Die Hochzeit des Camacho with Anima Eterna led by Jos van Immerseel (recorded by Channel Classics).
Nico van der Meel is a member of the ensemble Camerata Trajectina, which is recognized as a major advocate for Dutch music of the 16th and 17th century. With this ensemble he made more than fifteen CD's. Nico van der Meel is also the leader of the William Byrd Vocal Ensemble, a choir that is mainly occupied with a capella music from the middle ages until the 21th century. Furthermore he coaches ensembles and led projects with various groups.